UPPER BACK PAIN
Upper back pain is considered any type of pain that extends from the middle of your back through both shoulders. The good news is that upper back pain can be treated with chiropractic care. We offer various techniques here at Peach Orchard Family Chiro to treat upper back pain. We have various locations in Gilbert, Red Bank, Summit, and Lexington SC.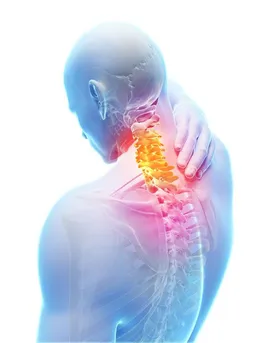 Causes of Upper Back Pain
Some of the most common causes of upper back pain are:
Improper lifting
Looking downward for extended periods
Poor posture
Recent accident trauma
Overuse or sports injuries
Shoulder or neck strain
Several spinal conditions can cause a limited range of mobility and lead to chronic pain. A few of the most serious causes of upper back pain include:
Degenerative disc disease
Herniated disc
Arthritis
Bulging or herniated disc
Spinal tumor or infection
Spinal fracture
Scoliosis or kyphosis
Depending on the cause of your upper back pain, accompanying symptoms may vary. Upper back pain that is the result of inflammation or infection may also be accompanied by illness. Back pain due to more serious conditions such as fibromyalgia can be accompanied by symptoms such as fatigue and insomnia. Potential accompanying symptoms include:
Headache
Fatigue
Fever
Neck pain
Stiffness
Sleep disturbance
Stress
Shoulder pain
Warmth, redness, or swelling of the back
Diagnosing Upper Back Pain
Our chiropractor will assess your musculoskeletal system to determine the root cause of your pain and immobility before creating a chiropractic care plan to address it. Many of our patients turn to our chiropractor for upper back pain treatment because it does not involve prescription medication or invasive surgery. Treatment options will be recommended depending on the source and severity of your upper back pain.
Chiropractic Treatment for Upper Back Pain
The goal of chiropractic care is to get to the root cause of what is causing your upper back pain. Some of the most common techniques used by our chiropractor to treat upper back pain include:
Spinal adjustments: A chiropractor can release stress on your upper back by performing spinal adjustments. These adjustments can also alleviate inflammation and irritation.
Massage: Chiropractic massage promotes blood flow and circulation thus promoting healing while reducing pain and inflammation.
Strengthening exercises: Exercises are useful to help strengthen your core and improve your flexibility.
Schedule an Appointment with Our Chiropractor for Upper Back Pain Treatment
At Peach Orchard Family Chiro, we have been sharing the benefits of chiropractic care with residents of Gilbert, Red Bank Summit, and Lexington, SC for many years. Call us today at (803) 356-2225 for more information or to schedule an appointment with our chiropractor