Occasional neck pain or stiffness might not be a cause for concern, but if your symptoms begin to interrupt your daily life or keep you from getting a good night's sleep, then we encourage you to contact Peach Orchard Family Chiro. Serving Gilbert, Red Bank, Summit, and Lexington, SC, Peach Orchard Family Chiro is here to help you understand why your neck hurts and how you can achieve lasting relief.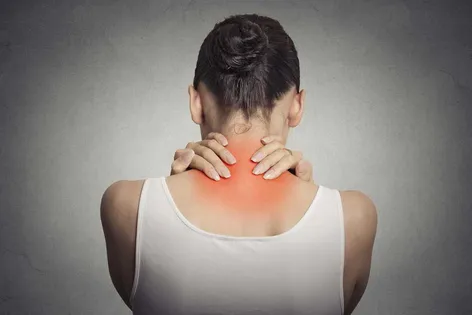 Causes of Neck Pain
Our chiropractor will assess your musculoskeletal system to determine the root cause of your neck pain before creating a chiropractic care plan to address it. Potential causes of neck pain include:
Muscle strains
Ligament sprains
Cervical radiculopathy (nerve root compression in the neck)
Degenerative disc disease (arthritis of the spine)
Herniated or bulging discs
Cervical stenosis (bony openings narrow in the neck area)
Whiplash (injury and inflammation to the neck and nearby tissues due to powerful flexion and extension of the neck)
Tech neck (a syndrome of symptoms caused by prolonged slouching in front of a computer or smartphone)
Women are more likely than men to experience neck pain, but acute or chronic neck pain can occur in people of all ages and backgrounds. Other risk factors for neck pain include stress, poor posture, acute trauma (like a car crash or fall), repetitive overhead movements, and frequent heavy lifting (including heavy backpacks and purses).
Symptoms Associated with Neck Pain
People with neck pain often complain of pain that feels achy, sore, or dull. They might have sharp pain with certain movements or at certain points in their range of motion. Additional accompanying symptoms include:
Headaches
Jaw pain
Shoulder pain
Arm pain and numbness
Fatigue and decreased mental focus
Persistent neck pain can make it difficult to drive, shower, work out, and focus at work. If this sounds like your experience, we are ready to assist you.
How Our Gilbert Chiropractor Treats Neck Pain
Gilbert chiropractor Dr. Benton uses a variety of drug-free techniques to help patients heal from neck pain and avoid recurring problems. Effective neck pain treatments he uses include:
Spinal adjustments
Intersegmental traction
Corrective exercises and stretches
Trigger point therapy
Therapeutic ultrasound and electrical stimulation
Postural re-training
Lifestyle counseling
Schedule an Appointment with Our Chiropractor for Neck Pain Treatment in Gilbert, Red Bank, Summit, and Lexington, SC
Call Peach Orchard Family Chiro today at (803) 356-2225 for more information or to schedule an appointment with our chiropractor.