During pregnancy, you may have back pain, as your center of gravity changes repeatedly. Your unborn baby may be placing pressure on the sciatic nerve, which leads to pain, numbness, and tingling that can extend from your lower back to your feet. Sometimes, sciatica stems from the hormone changes during your first trimester. Plus, you might have other musculoskeletal pain. Fortunately, our practice, Peach Orchard Family Chiro, serving Gilbert, Red Bank, Summit, Lexington, and the nearby SC region, offers prenatal chiropractic care.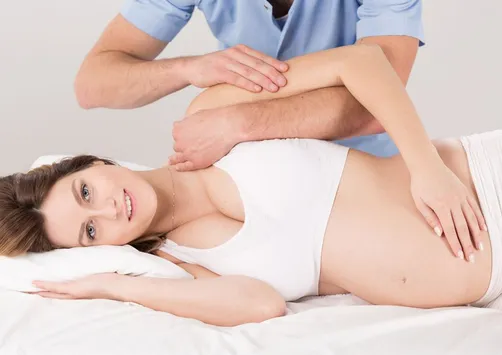 Why Choose a Prenatal Chiropractor?
If you're looking for an all-natural way to reduce your pain during pregnancy, chiropractic care is the solution. We provide treatments and lifestyle advice to reduce your pain and help you promote a happier and healthier pregnancy. The treatments work with your body to get to the root of the problem.
Plus, our practitioner undergoes specialized training to work with pregnant women. Our chiropractor has a thorough understanding of how a woman's body changes during pregnancy and how treatments can affect the unborn baby.
Prenatal Chiropractic Treatments
One of the more common prenatal treatments for back pain is chiropractic adjustments. How we perform this treatment depends on how far along you are. This guarantees your safety as well as your unborn baby's.
We might also recommend chiropractic exercise. During this treatment, you undergo exercises that work your back. We can also offer this treatment if you have other musculoskeletal problems related to your pregnancy.
Part of our care can also include lifestyle advice you may use at home to stay comfortable.
We might even be able to help you prepare for your labor and delivery. Chiropractic care can help ease your pain during labor and make the delivery process potentially quicker and easier. Our practitioner will help you balance your pelvic muscles. As a result, your unborn baby has more room to move and can more easily exit when it's time. Some research suggests routine chiropractic care, particularly in the third trimester, may help with the labor and delivery process. For instance, you're more likely to have a natural labor and delivery experience.
While pregnancy can be a glorious time, it may also come with a share of unwanted symptoms that can make your pregnancy less than pleasant. With chiropractic care, it doesn't have to be that way. And it may even make labor and delivery easier. Plus, our treatments are all-natural and known to be safe.
Visit Us for Prenatal Chiropractic Care in Gilbert, SC
Book an appointment with Peach Orchard Family Chiro, serving Gilbert, Red Bank, Summit, Lexington, and the neighboring SC communities. If you're pregnant and would like to try chiropractic care, call our team at (803) 356-2225.